Merry Christmas


to all our patients and friends!
Please enjoy this free ebook version of the book 
Secrets Of The Christmas Spirit
Dr. Dan Davidson co-authored the book with
his brother Dave many years ago
Click Here to view, download and share with others!
It is also available on Amazon!!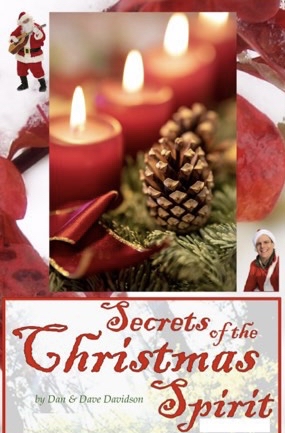 You can see it, you can hear it, the secrets of the Christmas Spirit… Our senses seize the seasonal surroundings of scotch pine and spiced apples as the incense of hot punches mix with a wreath's evergreen branches. While sipping hot tea or eggnog, cinnamon candles blend in with Grandma's cooking. The aroma of burning cedar wafts into the room as the sweet smells reveal secrets of Christmas past, present and future.

While holiday traditions spark a rekindling inside the heart, seasonal preparations and expectations are embraced, as decorations are set in place. Hospitality of the heart and home, encourage times of reflection as angels point us to a place where God gives eternal peace and grace.

Attempting to capture the feeling and fragrance of Christmas is an original acronym for C.H.R.I.S.T.M.A.S…
Celebration Hope Relationships Invitation Sharing Tradition Music Anticipation Savior.
It is our prayer that you will experience the full Fragrance of Christmas –
while sharing with friends and family, these secrets of the Christmas Spirit.