Foot Levelers Orthotics
Our office has the complete clinical line of Posture Orthotics from Foot Levelers. If you are considering individually designed Posture Orthotics, our office can perform a Gravity Posture Digital Foot Scan to show you how imbalances in the feet can lead to problems in the knees, hips, back and shoulders. The foot scan will show how Stabilizing Orthotics may help. New research recently showed an over 40% low back pain improvement with Foot Levelers & Chiropractic care! Learn more at www.FootLevelers.com/Proven.
Arch Gladness Special Pricing!!
It is March Madness time and we all deserve an optimal postural foundation. For a limited time (Until April 3rd – NCAA Championship Game) there is great Arch Gladness sale pricing for Foot Levelers custom made orthotics, flip-flops, slippers, sandals and shoes! Here is a link to the current  Spring 2023 Patient Catalog. A foot scan taken at our office in the last two years can be used for a new order. Just call us at 540 389-225 and you can make your order over the phone!
Foot Levelers Orthotics – $229
(In Motion Plus – $249)
Sandals and Slippers – $269
Flip Flops – $199
Shoes With Orthotics – $299

Pronation/Stability Index™
The index reveals the severity of pronation/stability in your feet, ranging from Optimal to Severe. Untreated imbalances of any level may lead to chronic problems throughout your body. Read more »
---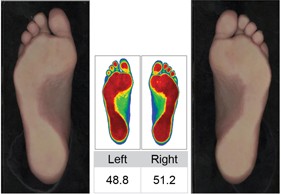 Foot Assessment
The red areas on the V7+ scan show where your feet are applying pressure. Loss of arch height – which shows more red in the middle of the foot, such as the image shown – can cause flattening and rolling of the feet.The scan also shows the percentage of imbalance for each foot. The higher number indicates greater instability on that side of the body.
---
Body Assessment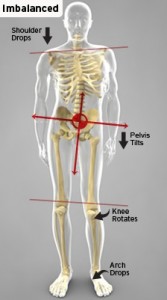 The body assessment image shows how imbalances in the feet can lead to knee rotation, pelvic tilt and shoulder drop. These imbalances in the body can be caused by pronation and supination of the foot. These instabilities can lead to conditions such as plantar fasciitis, knee pain, hip pain, back pain, and neck pain. A properly aligned body will have symmetrical feet, level knees, pelvis and shoulders. Wearing Stabilizing Orthotics may help alleviate imbalance. Contact Back Resort today at 540 389-2225 to make an appointment and learn more about Orthotics.