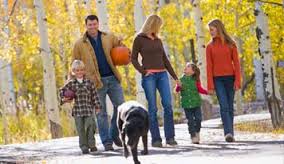 Have you been more inactive because of your pain and health condition?  Have you become a couch potato at home and a desk potato at work?  Do you dread starting an "exercise" program?
It's time to take off your body cast and start moving … and start living.
Life can be your best therapy! 
Spring and summer is a perfect time to get outside and become more active.  Plant those flowers you have been thinking about, start an herb garden, paint your picket fence or go walk the dog.  Normal life movements and ranges of motion promote muscle and ligament strength and joint flexibility.
It's a Move It Or Lose It principle.  When we move in life – we will have stronger bones and muscles and healthier joints.
Don't cover up pain with pills, powders and potions.  Don't give in to pain and move less.  Your health goal should be to move more.  That's what Chiropractic is all about – working with you to restore alignment, posture and balance so you can live and move pain-free and drug-free.
Get up off your duff and move today – life can be your best therapy … and it's just what your Doctor Ordered!
Written by Dr. Dan Davidson, Chiropractic and founder of the Back Resort & Rejuvenation Health Center – Dr. Davidson has spent 30 years helping patients live Drug Free Healthy – offering natural approaches to pain resolution.